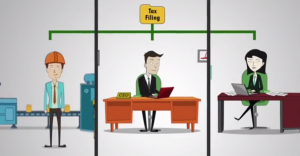 The deadline to file 1099s and W2s is January 31, which is rapidly approaching!  If you're still at your desk buried under a mass of paperwork, no worries!  Online File Taxes can help you, and quickly!
We want to simplify the process of filing taxes and alleviate some of the stress associated with this time of year!   With computer software there is still a massive amount of work to be done on your end, so let us help!  We can process, file, print, and mail all of your data in three easy steps!  We're ready and waiting to handle hundreds of forms in a short period of time.
Failure to file these forms or filing late can be a costly mistake.  If the IRS feels that you don't have reasonable cause for filing late, penalties start to add up.  Penalties for filing late can be as much as $30 per form within the first 30 days.  Those types of fees can add up, and the same penalty goes for mistakes as well!
If you're a CPA and you're overwhelmed at this point, please contact us.  We have a wonderful referral incentive for you and your clients.  Your clients will get a 10% discount on their first order, and we will give that 10% right back to you!  You can't lose!
For more information on what we do, and how we work please check out our helpful video: http://bit.ly/L4xWIA
For assistance will all of your tax filing needs, visit us on our website!