Forget complicated processes to file your tax forms, we've got the solution.  Our sign up process is as easy as 1-2-3, as we've made an effort to keep it as simple as possible.  Why complicate things that don't need to be complicated?
The first step in our sign up process is just that; sign up!  Fill in your email address, choose a password, and then confirm your password.  We told you this was going to be easy!
The second step is to fill in some basic information.  We want to know who you are, where you live, and what your business is/does.  This helps simplify both our work and yours.  If you have a coupon code this is your chance to enter it.  After filling in your information, simply click the next button and you will be taken to our third and final step.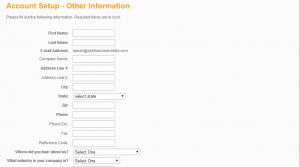 Our third and final step is by far the easiest step of all.  All you have to do to complete your account sign up is to confirm your information.  Here you will be given the option to say yes, and start filing or say no, and revise your information.  Once you select the proper option, you're free to start entering your forms.
To take part in our services and complete our super easy sign up, check out our website!