When it comes to online e-filing, not all options are the same. Choosing the right company to handle your online tax forms is a big decision. You want to ensure that everything is handled in a timely manner and that your forms are all filed properly with the IRS. In order to choose the right tax filing website, you will need to spend some time doing research and understanding what specifically you are looking for help with.
As you go about the process of finding the right company for online e-filing, we invite you to check out the following guide to choosing the ideal service for your needs.
Consider How Many Forms You Need to File
Not all businesses have the same needs when it comes to online tax forms. Perhaps you only need to file a handful of 1099s or maybe you are looking to file hundreds at a time. Not all online filing systems can handle large orders and some are specifically designed for massive corporations.
Ideally, it is wise to find a company that can handle any amount of tax forms, no matter how large or small. This will allow you to continue to utilize the same platform for years to come, even as your business grows. Sticking with one platform will allow you to spend less time in coming years searching for records and documentation.
Make Sure They Handle The Entire Process
Some companies will simply sell you packets of 1099s to download and fill out on your own. Others will allow you to prepare them online, but they can't handle the actual filing process. Make sure you opt for a company that will cover the process from start to finish. For example, you should be able to fill out the forms online, e-file them with the IRS, as well as have copies sent out to the respective parties.
Choosing a company that handles every step of the process is convenient and time saving, as well as more cost effective than piecemealing it out. Look for a simple, one-stop platform.
Look For Affordable Pricing
Filing hundreds of 1099s can start to add up. Make sure that you look for a company that offers you affordable pricing options if you have numerous forms to file. The less money you can spend on this process the better for your business. Avoid platforms that are designed for massive corporations with higher costs. Many of these platforms have more bells and whistles than you actually need. Don't waste your money on the unnecessary, instead, look for an affordable platform that meets your basic needs.
Find A Company Backed With Customer Support
Does the company you are considering offer any customer support? While ideally, everything will go smoothly and filing will be an error-free process, it is nice to know there is someone you can reach out to for help in case of an issue. Look for a tax filing service that is backed by customer support. Having support when you need it could mean the difference between missing an important deadline or getting your forms in on time.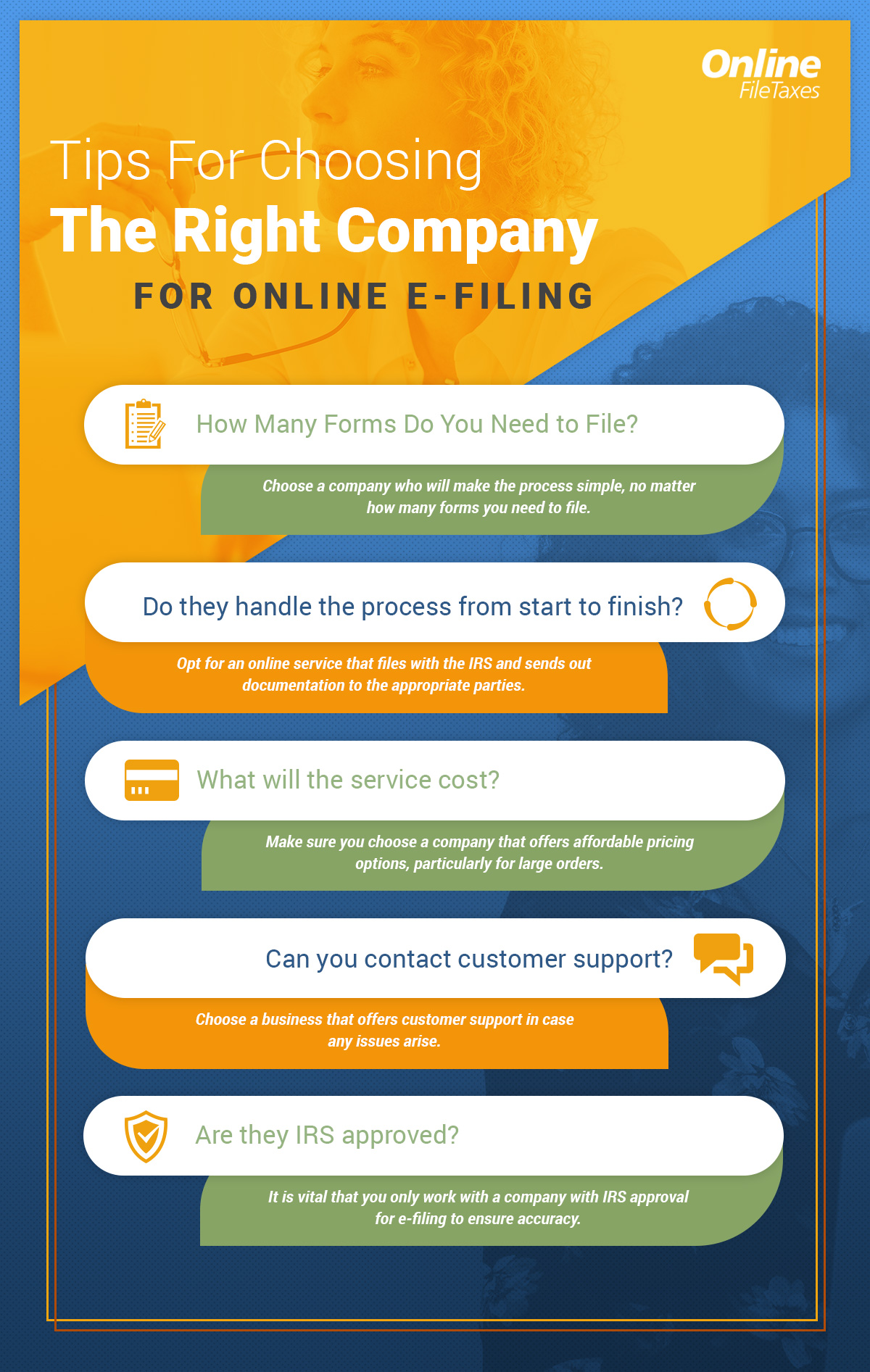 Be Sure They Are IRS Approved
Finally, make sure you opt for a company that is backed by the approval of the IRS. This will ensure that your forms are actually received by the IRS in a timely manner. An IRS approved e-file provider can quickly submit your forms, allowing you to rest easy with a greater peace of mind.

Here at OnlineFileTaxes.com, we provide a simple, easy-to-use platform for online e-filing. If you are interested in finding a faster, more effective way to file 1099s, we invite you to sign up for free today. Whether you are filing a couple 1099s or hundreds, our affordable pricing and simple steps will make the entire process less stressful. Reach out today to learn more or visit our Frequently Asked Questions page for more information about our services.